Principle of the drawer shelf unit
The drawer shelf unit is intended for vertically handled loads. It allows reducing human efforts and risks inherent to the movement of loads.
The operator manually moves to the level where he wants to place the drawer shelf unit so that he can easily load or unload.
---
This type of storage offers many advantages :
- Total accessibility to each reference
-Total visibility of all the products placed on the plate
-Sensitive products are protected, and so may not be damaged by hazardous handlings
-The storage of parts hard to handle is compact and organized in a rational way.
---
This type of storage is open to many applications thanks to its compact design and its ability to be used in the vicinity of the operating site. Human engineered operation, usage safety and reduced "picking" times are the result.
---
Airport (storage of food products)
>galvanized plate 1200 x 600 mm - 400 kg / level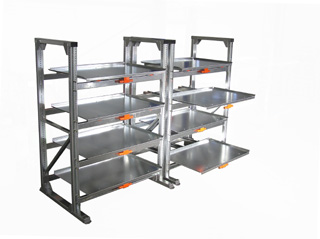 ---
Machining workshop (storage of molds)
>galvanized plate 1200 x 800 mm - 400 kg / level